Thousands of small and micro businesses are falling through the cracks of government support, according to a letter sent by Guardians of the Arches and the East End Trades Guild to the Chancellor, Rishi Sunak.
We have conducted a survey of our members and have found that 77% will not be able to pay their next quarterly rent. Among those members who would not be able to pay full rents by June/July, one quarter would have to dissolve their business, one in five would reduce employment at their business, and 18% would have to give notice on their lease immediately.
Among those who might be able to pay rent by June/July, the majority would face negative adjustments to their business and 50% of them would have to make job cuts to do so. Out of the whole sample, 20% would have to dissolve their business if their landlord demanded full rents (at the existing rate) from June/July onwards.
A strong indicator for these results is that 42% of responders have not yet received any government support.
We have written to the Chancellor to set out their troubling findings and suggest four measures which the Government should take to protect small businesses through the Covid-19 crisis.
Please share our letter with your MP and wider networks to encourage them to support this campaign for immediate support.
(Click Letter To Download)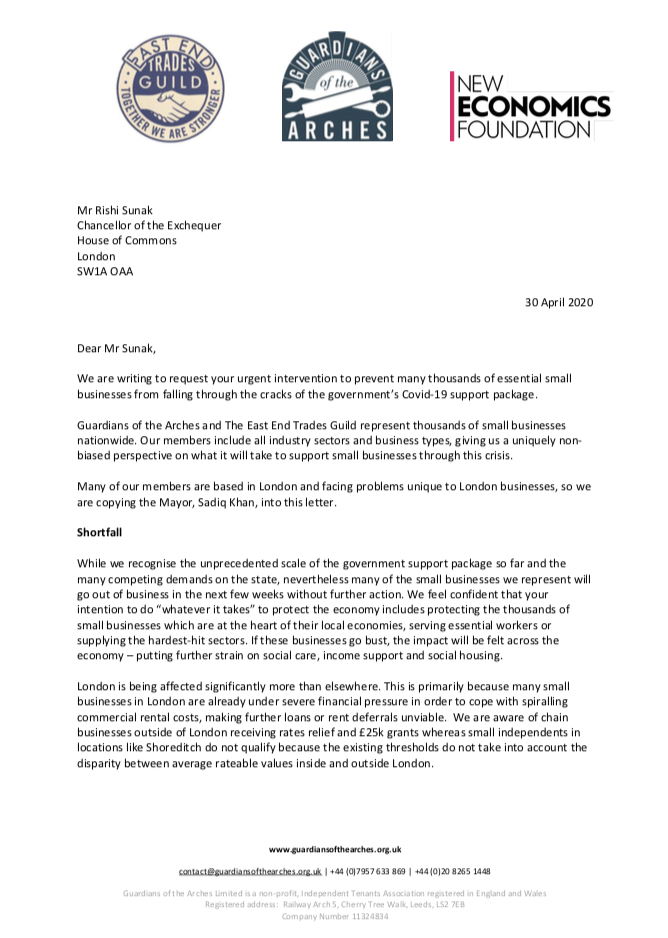 Enclosure from JMA Chartered Surveyors – Download here
These measures, form part of our Manifesto for Economic Resilience.
Leni Jones, Managing Director of Guardians of the Arches, said:
"We represent exactly the type of business that the Government has said it wants to support through this crisis. But despite the Government's efforts so far, too many of our members are falling through the cracks. As the Government considers further social distancing for the long term, our locally accessible businesses, service providers and community organisations must be protected to keep our economy running.
We are business people, and we're not looking for free handouts. But the reality is that the Government's intention to do whatever it takes to help businesses like ours is not feeding through the system, and many of our members are facing immediate bankruptcy as a result.
We are asking for urgent action to shore up the prospects of thousands of small and micro enterprises around the country, before it's too late."